Wendillume
is a solo in which the dancer seems to "wend" along a course or route, riding the air like a damselfly while an orchestra of lighting engineers "illume" the dancer's gestural traces. Movement trails dissect tangible air as the choreography scuttles, scampers, and scurries throughout the stage. Large-scale shadows upstage offer visual source material for an unprocessed, rear live-feed camera and rear-projected video source that moves in real-time with the dancer.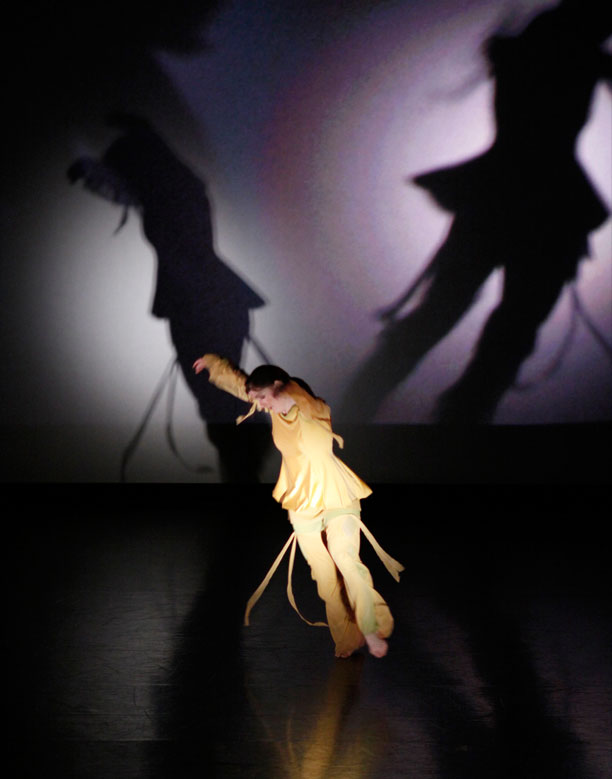 Jessica Mayhew in Wendillume, photos by Jon Nalon


Viewings
Harkness-Sebastian/Mayhew MFA Thesis Concert
FSU School of Dance
Nancy Smith Fichter Dance Theatre, FSU Campus
Tallahassee, FL
February 18 & 19, 2011 (premiere)

Credits
Choreography: Tim Glenn
Music: And The Earth Shall Bear Again by John Cage, performed by Philipp Vandre
Lighting: J. Russell Sandifer
Costume Design & Construction: Tim Glenn
Performer: Jessica Mayhew
Lighting Technicians: Sydney Keister, Murphy Reinert, Mary Schindler

(tuxedos courtesy of the FSU School of Theatre)

See Wendillume on Vimeo!