This work was inspired by the music of Alex Davis and the architecture of Santiago Calatrava (Quadracci Pavilion at the Milwaukee Art Museum) and Kevin Huse (Atrium of the Indianapolis – Marion County Public Library). The duet is performed within changing environments created by integrated full-stage rear projection and full-stage front projection onto a downstage scrim.
Viewings
Take It To The Floor - MFA Thesis Concert
FSU School of Dance
Nancy Smith Fichter Dance Theatre, FSU Campus
Tallahassee, FL
March 25 & 27, 2010 (premiere)
Intermedia Festival of Telematic Arts
Live Internet broadcast from FSU Campus to
Clowes Auditorium in the
Indianapolis/Marion County Public Library, Indianapolis, IN
April 23, 2010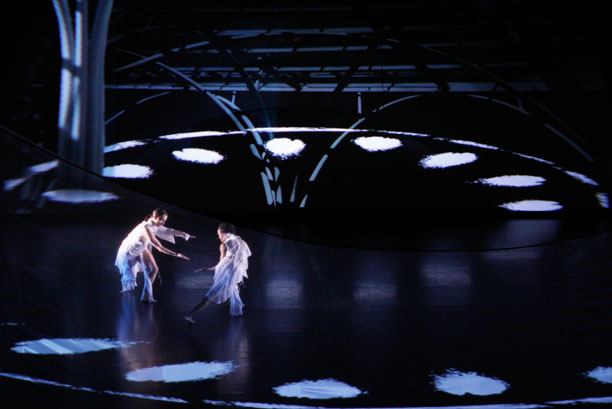 Jackie O'toole and Denae Hannah in Catharsis, photo by Jon Nalon


Credits
Choreography: Tim Glenn
Music: Catharsis for Orchestra by Alex Davis
Lighting: J. Russell Sandifer
Costume Design & Construction: Tim Glenn
Performers: Denae Hannah, Jackie O'Toole
Understudies: Emily Petry, Gwendolyn Petry

See Catharsis on Vimeo!