Doven Souls
includes a glimmering cast of seven vivacious dancers conjuring mystical impressions of a supernatural life force in the hereafter. The contoured choreography, set to an original music score by long-time collaborator Alex Davis, suggests the infinite existence of kinetic motion within a serene and tranquil stage.
Doven Souls
includes pre-edited front-projected, pre-edited rear-projected, and live-feed front-projected video sources. The projection geometry of this piece includes the use of a full scrim downstage. All video sources are synchronized using QLab show control software. Projection media was created specifically for this piece by manipulating copyright-free images that were purchased online. Additional sources were photographed, videotaped, and edited by Glenn using Final Cut Pro and Photoshop.
Doven Souls
is dedicated to Loyd Oren Glenn, the choreographer's 98-year-old grandfather, who passed on the evening this dance was completed.
Doven Souls
was originally performed at the College of Lake County without video projections. An original score by Alex Davis, as well as costumes and projections were designed by Glenn for the 2012 restaging at Florida State University.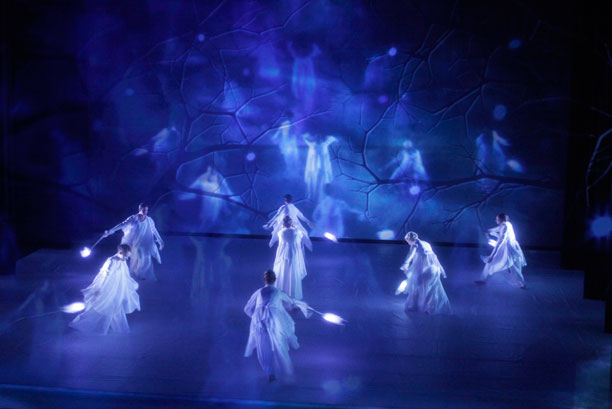 Viewings
James Lumber Center for the Performing Arts
Mainstage Theatre
College of Lake County (commission)
Grayslake, IL
November 18–20, 2011 (dance premiere)

An Evening of Dance Concert
FSU School of Dance
Nancy Smith Fichter Dance Theatre, FSU Campus
Tallahassee, FL
April 12–14, 2012 (multimedia premiere)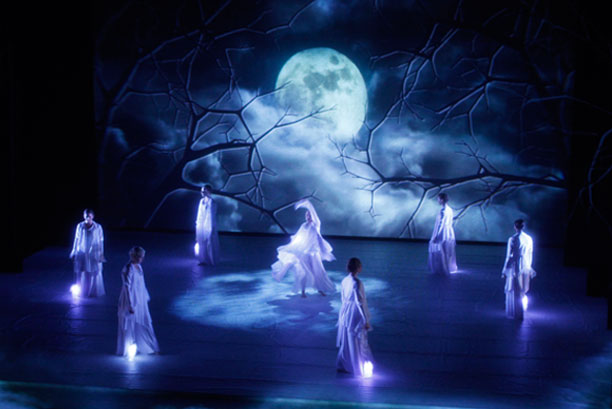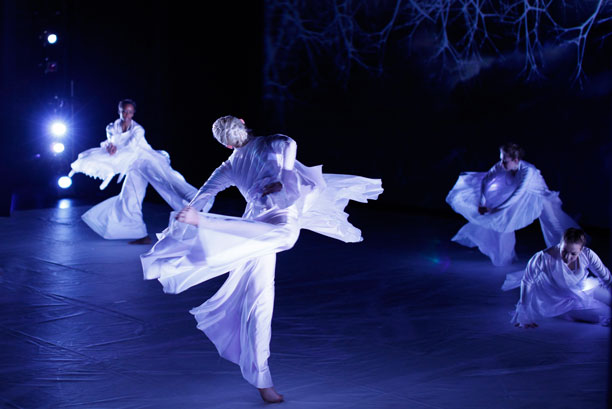 Credits
Choreography: Tim Glenn
Music (2011 premiere without projections): The North Green Down III and No Greater Pain from The North Green Down by Dakota Suite and Emanuele Errante and …og lengra from Duad 1990 by Ólafur Arnalds
Performers: Katrina R. Boi, Kristine Boyce-Zanello, Jadyn F. Chipman, Ivan Flores, Trisha Hurckes, Alana S. Johnson, Allison Van Lier
Rehearsal Director: Valerie Alpert

Choreography and Projection Design: Tim Glenn
Music (2012 restaging with projections): Within a Fractured Bell: I. Metallurgy, II. Splinters and Rust, III. Death Knell, an original score by Alex Davis performed by Chris Fischer (viola), Dovid Friedlander (violin 1), Peng Li (cello), Jackie Wolborsky (violin 2)
Recording Engineer: Jonathan Churchill
Lighting: J. Russell Sandifer with Tim Glenn
Costume Design & Construction: Tim Glenn
Costume Consultant: Amy Mutarelli Taylor
Performers: Iman Barnes, Lainie Berman, Ashley D'Ambois, Shiloh Hodges, Bethany Miller, Mariah Morris, Tara Plyler, Kiya Schnorr, Jade Treadwell, Emily Wolfe
Understudy: Thryn Saxon
Contributing Dancers: Joanna Blake, Jenna Del Monte, Sarah Harkness-Sebastian, Kimberly M. Holt, Katie McCreary, Aubrie Rodriguez, Kaitlyn Tufts, Erin Willingham



Also, see Doven Souls on Vimeo!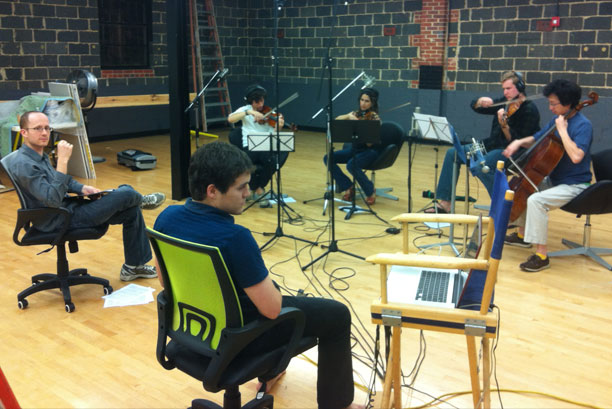 Composer Alex Davis with members of the North Carolina Symphony in a recording session for the original score, Within a Fractured Bell.